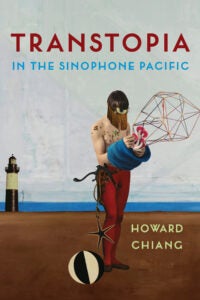 Transtopia in the Sinophone Pacific. Columbia University Press, 2021.
— Finalist, 2022 Lambda Literary Award in LGBTQ Studies, Lambda Literary Foundation
— Finalist, 2022 Bonnie and Vern L. Bullough Book Award, Society for the Scientific Study of Sexuality
— Honorable Mention, 2021 Big Other Readers' Choice Award, Big Other Magazine
— Top 30, Academic Best Sellers in Asian History, Library Journal Reviews
As a broad category of identity, "transgender" has given life to a vibrant field of academic research since the 1990s. Yet the Western origins of the field have tended to limit its cross-cultural scope. Howard Chiang proposes a new paradigm for doing transgender history in which geopolitics assumes central importance. Defined as the antidote to transphobia, transtopia challenges a minoritarian view of transgender experience and makes room for the variability of transness on a historical continuum.
Reviews:
"Argued with precision, compelling evidence, and intellectual might, this book is a major contribution to cultural history and theories of transness." – Laura Doan, University of Manchester
"It is not often that one can predict when a book will set the agenda or change the debate in an academic field. Transtopia in the Sinophone Pacific is such a book. […] Brilliantly conceived, lucidly written, and politically engaging, this book sets a new benchmark for queer and transgender scholarship." – Hongwei Bao, University of Nottingham
"This book exemplifies adventurous history at its best and represents a monumental achievement of deep archival work and theoretical acuity. […] Chiang's recasting of the borders of transness with the concept of transtopia strikes me as a once-in-a-generation insight and one that promises to reorient much of trans studies." – Benjamin Kahan, Louisiana State University
"makes a significant conceptual and methodological intervention in how to draw transversal connections across time, place, and scale between different kinds of gender mutability." – Susan Stryker, University of Arizona
---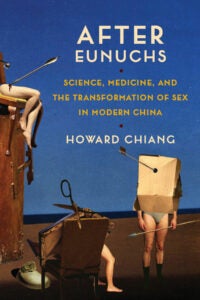 After Eunuchs: Science, Medicine, and the Transformation of Sex in Modern China. Columbia University Press, 2018.
— Winner, 2019 International Convention of Asia Scholars (ICAS), Humanities Book Prize
— Winner, 2020 Bonnie and Vern L. Bullough Book Award, Society for the Scientific Study of Sexuality
For much of Chinese history, the eunuch stood out as an exceptional figure at the margins of gender categories. Amid the disintegration of the Qing Empire, men and women in China began to understand their differences in the language of modern science. In After Eunuchs, Howard Chiang traces the genealogy of sexual knowledge from the demise of eunuchism to the emergence of transsexuality, showing the centrality of new epistemic structures to the formation of Chinese modernity.
Reviews:
"After Eunuchs deftly explores how the introduction of Western biomedicine transformed understandings of gender, sexuality, and the body in Chinese contexts from the twentieth century onward. […] Chiang illuminates a host of practices and corporeal formations by challenging the many essentialisms that still inform our assumptions about the wholeness of the human body. A rich and original work."  – Ari Larissa Heinrich, Australian National University
"An important study that is both long overdue and remarkably timely. Chiang draws a controversial line between imperial China's eunuchs and modern Taiwan's first transsexual surgery. Tracing this path takes us through twentieth-century regimes of visuality, the impact of biological and psychiatric reasoning, and the production of sexual pathologies." – Ruth Rogaski, Vanderbilt University
"This strongly evidenced, briskly written, imaginative work takes a bold step into describing conditions for thinking about sexual and therefore gender difference. It appeals across the disciplines and enters into general debates about the science and history of sex difference, sexual desire, sex morphology, and queer theory." – Tani Barlow, Rice University